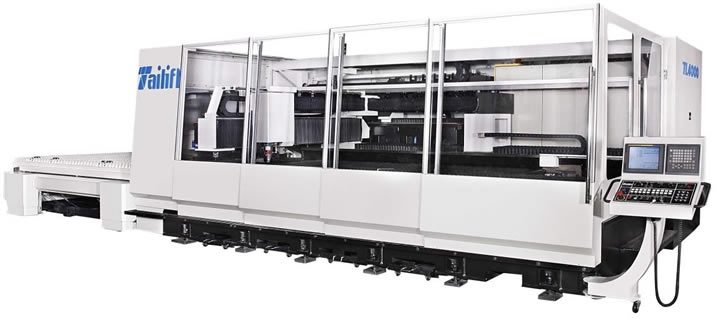 Описание
Gantry Type Structure
New Generation Optic Compensation System
Gantry type structure features maximum rigidity and stability.
With the use of a new generation flying laser all time constant length optional path compensation system, laser power output at any position on a plane can be accurately controlled, thereby achieving the optimal beam quality. This results in higher quality and efficiency of cutting that fully meets the requirement of extra high speed cutting.
Dust Collection System
The use of the automatic follow-up dust collection system is able to quickly and efficiently collect the powder dust and waste gases generated during the cutting process, this making the working environment free of powder dust and free from air pollution.
Automatic Switching of Assist Gases
Automatic Pressure Adjustment
Depending on the material type and thickness, the controller can choose the correct cutting gas. For example: Oxygen cuts carbon steel and thick materials, Nitrogen cuts stainless steel and aluminum, and air cuts acrylic.
Doors at both sides can be fully opened, allowing sheets to be loaded/unload from desired direction.
Equipped with two(large) exchangeable tables to shorten the time in loading and unloading different thickness of sheet metal, contributing improved production efficiency.
Designed with rack and pinion drive at both sides in combination with synchronous control through FANUC servo motor. Optimal accuracy is ensured when performing simultaneous movement at high speed.
Технические характеристики
Item
Unit
TL-4000
 
working range
X axis
mm
3050 (-150~3060)
Y axis
mm
1530 (-6~1536)
Z axis
mm
100
work piece
Maximum size
mm
3048*1525
Maximum weight
Kg
950
Machine Size/Weight
Machine dimension
Length
mm
10000
Width with control table
mm
3912
Height
mm
2400
Shuttle tables
X axis length
mm
3460
Y axis length
mm
2480
Table height
mm
880
Number of table
PCS
2
table type
SHUTTLE
weight
Machine approx.mass
Kg
11000
Capacity
Max-Traverse Speed
X axis
m/min
80
Y axis
m/min
80
Z axis lowering speed
m/min
30
Cutting speed
X-axis
Y-axis
m/min
20
Accuracy
Position accuracy
X-axis
Y-axis
mm
±0.05
Z-axis
mm
±0.01
Reposition accuracy
X-axis
Y-axis
mm
±0.05
 
Resonator
Model
 
FANUC Laser C4000i-C
transmission method
 
 
 
Flying Optic
Lens
Focus
 
in
5、7.5
Thickness
 
in
0.31
Assist gases
Nitrogen
 
Bar
25
Oxygen
 
Bar
10
Dry air
 
Bar
10
CNC Controller
controller model
 
 
 
FANUC 31i-LB
Axes
 
 
 
X、Y、Z、A、B、U
Number of controllable axes
 
 
 
4 axes:X/Y/Z/A
Screen
 
 
 
15" LCD
Memory capacity
 
 
 
1024 KB (2,560m)
Drive
Motor
 
Kw
65
Power Requirments
 
 
AC 3ph 200/220V ±10% 50/60Hz
Table Movement
Up/Down hydraulic system
Bar
61
Air compressor system
Bar
5
Specifications are subjects to change without prior notice.
The cutting speed of X and Y axes depends on workpiece materials, specifications, sizes and profiles.
Аксессуары
Standard
Water-wash Type Dust Collector
Air Cooled Water Cooler