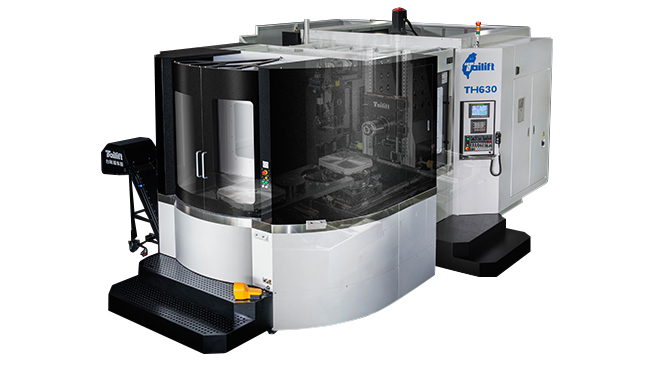 Описание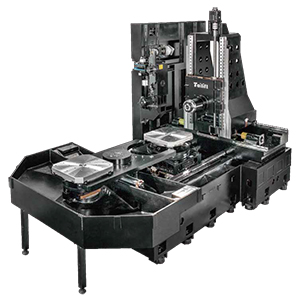 Traveling column.
Step type linear ways deployment on X-axis.
Rotary type auto pallet change.
Table indexing 1° (standard), 0.001° (optional).
Max. cutting capacity Ø1000mm.
Three axes rapid traverse: 24 M/min. (standard), 30 M/min. (optional).
Roller type linear ways on three axes.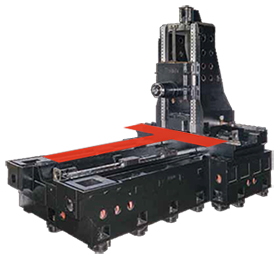 X, Z-axis are one-piece fabricated with high-quality cast iron so as to ensure the machine rigidity and minimum vibration. It also assists in upgrading machining accuracy.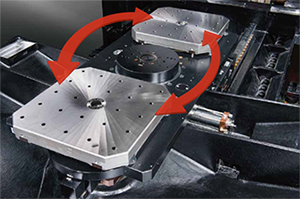 Automatic pallet change is driven by hydraulic cylinder, and pallet change motions can be performed by 180° rotation clockwise or counter-clockwise.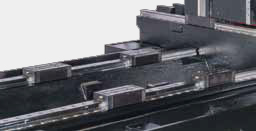 The X, Y, Z-axis are all mounted with extra wide (SR65) heavy duty linear motion guides together with great span between linear ways, featuring heavy load resisting capability, high feed rate and low friction.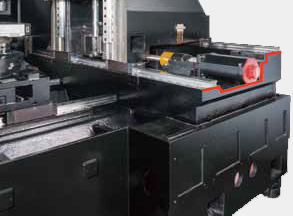 The two linear ways on the X-axis are deployed as a step type and the step difference between linear ways reach 100mm. This design will enable the spindle head to maintain at an extremely stable condition during cutting.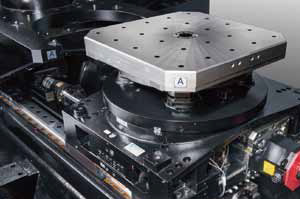 The table is driven by a servo motor in combination with the use of curvic-teeth clutch for high precision indexing.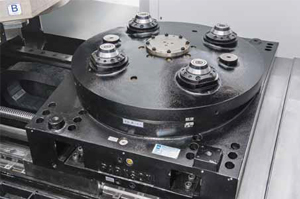 The pallet positions on 4 precision cones to achieve high positioning accuracy.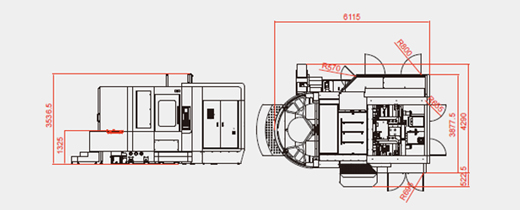 Технические характеристики
Item
Utit
TH-630
Travel
X-axis travel
mm
1050
Y- axis travel
mm
850
Z- axis travel
mm
1000
Table
Working surface
mm
630 x 630
No. of tables
pcs
2
Table surface type
type
24-M16Pitch125
Table indexing unit
degree
1º (0.001º Optional)
Repeatability
sec.
± 1"
Table height from floor
mm
1315
Max. workpiece size
mm
Ø1000
Max. table load
kg
1200
Max. height of workpiece
mm
1000
Spindle
Spindle speed
rpm
6000 (4500 Optional)
Spindle type
Belt (Direct-drive / Gear Optional)
Spindle nose taper
mm
7/24 Taper, No.50
Spindle center to table surface
mm
100 ~ 950
Spindle nose to table center
mm
150 ~ 1150
Spindle nose taper
BT50
Inside dia. of spindle bearing
mm
Ø100
Feed Rate
Rapid traverse (X, Y, Z-axis)
M/min
24 (30 Optional)
Cutting feed rate
M/min
1 ~ 10
Auto Tool Changer
Tool shank type
BT50
Tool storage capacity
tools
40 (60/90/120 Optional)
Max. tool diameter
mm
Ø115
Max. tool dia.(adjacent empty tool)
mm
Ø230
Max. tool weight
kg
20
Max. tool length
mm
400
Tool change time(tool to tool)
sec.
3.2 (60Hz)
Auto Pallet Changer
No. of pallets
piece
2
Pallet change type
Rotary type
Pallet change time
sec
18
Machine Dimensions
Machine height
mm
3540
Area occupied
mm
4820 x 6820
Machine weight
kg
23000
Аксессуары
Standard
Rotary type automatic pallet changer (APC)
1° indexing rotary table
Link type chip conveyor with chip bucket
40 tools chain type magazine
BT-50, 6000rpm belt-drive spindle
Spindle oil cooler
Heat exchanger for electrical cabinet
Automatic lubrication system
Fully enclosed splash guard
Mitsubishi or Fanuc CNC control
Leveling bolts and blocks
Tool box
Operation and maintenance manual
Spindle air curtain
Top flushing device
Chip augers (both sides)
Coolant jets around spindle
Simple oil fluid separator
Three-color warning lamp
Working light
Optional
0.001° indexing rotary table
60/90/120 tools chain type magazine
#50, 4500rmp gear-drive spindle
#50, 8000~12000rpm direct-drive spindle
#50, 10000rpm built-in type spindle
Coolant through spindle device (20 bar)
Coolant through spindle device (70 bar)
Linear scales on three axes
Oil fluid separator
Air conditioner for electrical cabinet
Automatic tool measuring device
Automatic workpiece measuring device
Transformer
Oil mist collector
Rotary table with T-slots
CE specifications