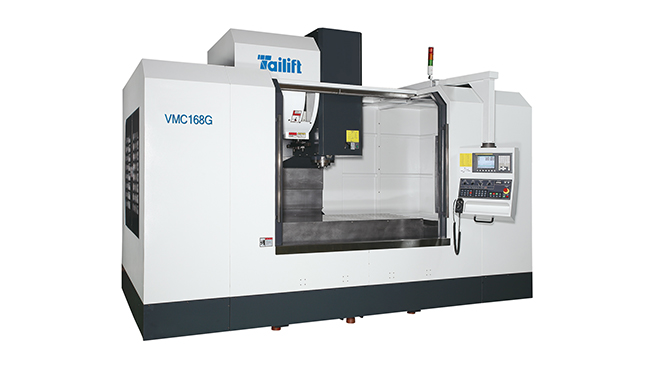 Описание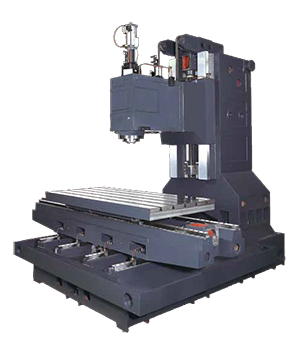 24 m/min of rapid traverse rates can be achieved with the design of linear ways on X, Y-axis.
Box ways on Z-axis ensures high stability during cutting.
The double-wall box type base combined with oversized column design lead to higher rigidity and stability.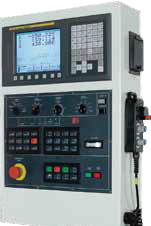 The machine comes equipped with a high performance FANUC 0iMD A controller in combination with the use of α type servo motor. The controller has 1G CF memory card and provides AICC function for high speed machining.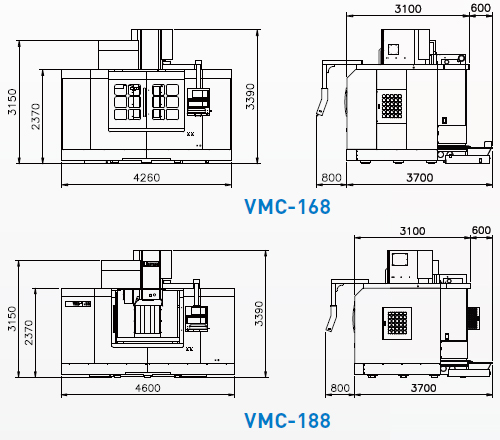 Технические характеристики
Item
Utit
VMC-168DH
VMC-188DH
Travel
X-axis travel
mm
1600
1800
Y- axis travel
mm
850
850
Z- axis travel
mm
700
700
Spindle Nose to Table
mm
150 ~ 850
150 ~ 850
Spindle Center to Column Face
mm
930
930
Table
Working surface
mm
1800 x 850
1900 x 850
T-slots (width*number*pitch)
mm
18 * 5 * 125
18 * 5 * 150
Max. table load
kg
2000
2500
Spindle
Spindle speed
rpm
6000
6000
Transmission
Gear
Gear
Spindle nose taper
BBT50
BBT50
Feed
Rapid traverse
(X,Y,Z-axis)
M/min
24 / 24 / 12
24 / 24 / 12
Cutting feed rate
M/min
1 ~ 12
1 ~ 12
Auto Tool Changer
Tool storage capacity
pcs
24 (32 Opt.)
24 (32 Opt.)
Tool change time
(tool to tool)
sec.
3.5
3.5
Max. tool diameter /
adj. empty tool
mm
110 / 210
110 / 210
Max. tool length
mm
300
300
Max. tool weight
kg
15
15
Miscellaneous
Coolant tank capacity
L
330
330
Electric power required
KVA
35
35
Air pressure required
kg/c㎡
6
6
Machine dimensions
(W*L*H)
mm
4260 x 4420 x 3390
4600 x 4420 x 3375
Machine weight
kg
16500
17000
Аксессуары
Standard
Fully enclosed splash guard
Twin chip augers
Telescopic guards on three axes
Heat exchanger for electrical cabinet
Spindle oil cooler
Cutting air blast device(M07 program controlled)
Coolant system
Flushing devices at both sides
Automatic lubrication system
MPG handwheel
Air blast through spindle
Transformer for external power
Oil fluid separator (specific gravity type)
Leveling bolts and blocks
Warning lamp
Coolant gun and air gun
Fluorescent lights at both sides
Auto power off
RS-232 interface port
Adjustment tools with tool box
Accuracy inspection report
Machine operation and maintenance manual
Electronic book for FANUC program maintenance and operation manual
Optional
Flushing devices at both sides (Independent coolant pump optional)
Coolant device through tool holder
24/32 tool magazine
Lifting type chip conveyor
Air conditioner for electrical cabinet
CNC rotary table (4th axis)
Automatic tool length measuring device
Automatic workpiece measuring device
High speed data server
AICC2 high speed high accuracy control
Linear scales on three axes
Oil mist device
Oil mist collector
Disk type oil skimmer
Coolant through spindle and external-mount filtrating coolant tank
Working step