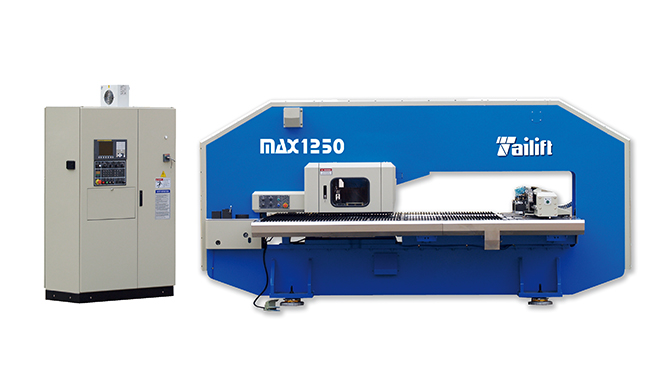 Описание
MAX Series for Complex Multi-Tools Auto Index Technology
HIGH PERFORMANCE
FLEXIBILITY IN MULTI-TOOLS
MAX Series Punch Press Machine is the newly developed Multi Index Tools Turret Punch Press equipped with advanced Servo Hydraulic System, introduced by Tailift's professional R&D and production teams who have been dedicated to machineries for decades. Our MAX Series machines provides the fastest, flexible and reliable punch press satisfying your expectation of fast and precise sheet metal works.
Advanced Servo Hydraulic System(ASHS inside)
Advanced German made Schneider Hydraulic Servo system with pressure valve to precisely control the speed, volume and pressure of oil flow.
To control the RAM stroke distance on both ends, hence the height and depth of each punch becomes programmable with 0.1mm accuracy.
Uniquely designed Machine structure ensures less preventive maintenance.
Complex Multi-Tools Auto Index Technology (CMAIT)
Complex Multi-Tools Auto Index Technology (CMAIT)
Synchronized dual servo motors for controlling the auto index functions.
4 D Auto Index Stations for Multi Tools, either 3 B or 8 A.
Capable of indexing each individual tool within the 3B and 8A Multi Tool set.
24 various size stations including 4 Auto Index stations Multi Tools.
Therefore, a total of 24 to 52 tools can be employed.
Capable of running wheel, marking, grooving and forming Tooling.
Технические характеристики
Item
Unit
MAX1250
Punching Capacity
Tom
20
X Traverse Length
mm
1250±10
Y Traverse Length
mm
1250±10
Max Sheet Size
mm
1250x2500
Max Sheet Thickness
mm
6.35
Max Sheet Weight
kg
110
X Axis Traverse Speed
m/min
75
Y Axis Traverse Speed
m/min
60
Max Traverse Speed
m/min
96
Punch Speed at
hist/min
360
25mm Between Holes
Nibbling Speed
hist/min
600
Tools Type
Thick turret
Max Punching Diameter
mm
88.9
Number of Tool Stations
24~52
Number of Auto Index Stations
4/(DType)
Turret Rotating Speed
rpm
40
Auto Index Rotationg Speed
rpm
50
Ram Stroke Distance
mm
0~31
Working Tables Size
Brush
Number of Sheet Clamps
2
Power Supply
KVA
25
Air Supply
NL/min
250
Oil Tank Volume
L
350
Air Pressure
bar
5
Machine Size
mm
4455x2630x2100
Net Weight (apporx)
kg
13500
Size of Control Cabinet
mm
1200x600x1900
CNC Controller
FANUC Oi-PD
Number of Controllable Axes
5+1
Memory
KB
256
Serial Interface
USB/PCMCIA/RS232C/RJ45
Punching Accuracy
mm
±0.1
Инструментальная турель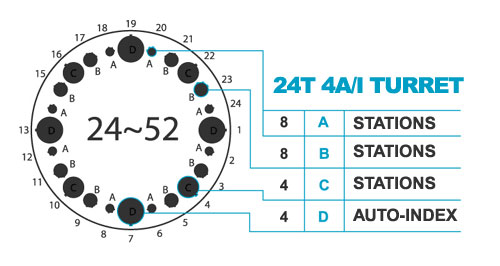 | | |
| --- | --- |
| A type 1/2" MAX diameter 12.70mm | 8 ( 8 accept shaped tools ) |
| B type 1-1/4" MAX diameter 31.75mm | 8 ( 8 accept shaped tools ) |
| C type 2" MAX diameter 50.80mm | 4 ( 4 accept shaped tools ) |
| D type 3-1/2" MAX diameter 88.90mm | 4 AUTO. INDEX |
Чертёж